Pikea californica Harvey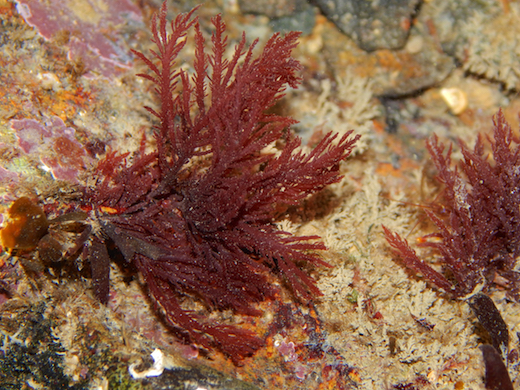 Common name: Pike's Weed.
Description: Mature plants crimson to reddish brown, 10-14 cm long, forming dense, bushy fronds attached by small discoid holdfasts. Main axis compressed, up to 2 mm broad and 1.5 mm thick, primary branching irregular. Lateral branches are also distinctly compressed and branched secondarily in an irregularly pinnate manner. Apices variable in width, from 0.2-1 mm, often attenuate at the point of attachment to larger axes, and bear irregularly pinnate, spine-like ramuli. Young plants are compressed and more blade-like with more ovate lateral branches. Male and female gametangia on terminal branches in November and mature cystocarps in swollen branchlets in January. Tetrasporangia unknown in the wild but are reported to occur on crustose plants.
Habitat: On rock and in pools in wave-exposed situations just above low water to 14 m; stunted plants have been found on marinas in Cornwall.
Key characteristics: Compressed axes with spine-like ramuli; irregular pinnate branching in one plane. The ultimate pinnae show a slight "fish-bone" pattern under a dissecting microscope, not seen in Sphaerococcus coronopifolius or Gelidium spinosum.
Similar species: Sphaerococcus coronopifolius and Gelidium spinosum.
Distribution: In the Pacific known from Alaska south to México, and in Japan and Korea; introduced, probably by human vector, in the Atlantic and known only from the Scilly Isles (extreme SW coast of England) in very wave-exposed situations, where it was first collected in 1967, but not recognized until 1983. Subsequent surveys indicated that the species is widely distributed in the islands but was thought to be confined to them until discovered in January 2015 at Newlyn in Cornwall by David Fenwick, when mature cystocarpic plants were discovered at extreme low water, who kindly provided the photographs here.

Notes
Plants from the Isles of Scilly and at Newlyn in Cornwall are identical to those collected at Golden Gate, near San Francisco, California, by "Capt. Nicholas [sic] Pike". This seems to be the soldier-engineer, naturalist, and ichthyologist Nicolas Pike (1818-1905), who was US consul at Mauritius and Oporto, Portugal. Pike has been implicated in the introduction of the House Sparrow from England to North America in the 1850s when he is reputed to have sent 8 pairs from Liverpool to the Brooklyn Institute (while on his way to Oporto), which "did not thrive" when released. One author reported that "As early as 1849 he was a diligent student of marine algae and in that year he was made president of the Brooklyn Natural History Society" (Gudger 1929).
How did Pikea arrive in Britain? One possibility is via Catalina flying boats that were manufactured in San Diego and were directly from California to the Isles of Scilly during World War II. It has been reported that such seaplane hulls and floats are occasionally fouled by algae. This species may have been transferred by Catalinas employing canvas sea anchors (stored in the hull while flying which would consequently have been damp but aerated), and the planes flew at relatively low altitudes (Maggs & Guiry 1987). Maggs & Ward (1996) later reported that the species does not currently occur around San Diego; however, the rocky shores in this area have considerably degraded by human activity in the latter half of the 20th century.
David Fenwick comments: "There are many plausible reasons for its spread to the mainland, but unusual that it has taken so long. It has most likely been found at Newlyn because of the removal of fouling from trawler hulls, which was likely disposed of in the part of the harbour where Pikea was found."
References
Gudger, E.W. (1929). Nicolas Pike and his unpublished paintings of the fishes of Mauritius, western Indian Ocean, with an index to the fishes. Bulletin American Museum of Natural History 58: 489-510.
Maggs, C.A. & Guiry, M.D. (1987). An Atlantic population of Pikea californica (Dumontiaceae, Rhodophyta). Journal of Phycology 23: 170-176.
Maggs, C.A. & Ward, B.A. (1996). The genus Pikea (Dumontiaceae, Rhodophyta) in England and the north Pacific: comparative morphological, life history and molecular studies. Journal of Phycology 32: 176-193.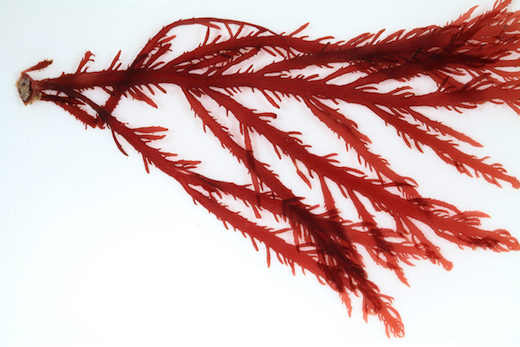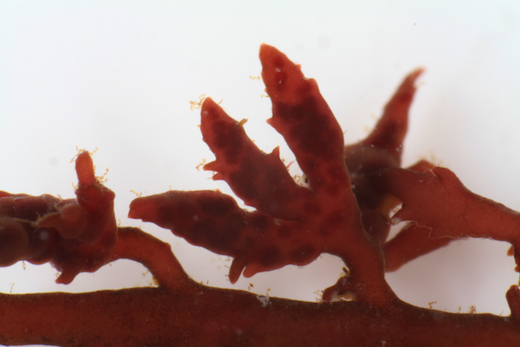 Photographs: Newlyn, Cornwall © David Fenwick, January 2015. Top: plants in pools; middle: plants with discoid holdfast and irregular pinnate branching; bottom: mature cystocarps in swollen branchlets. Pikea on David's site.