Jania rubens (Linnaeus) Lamouroux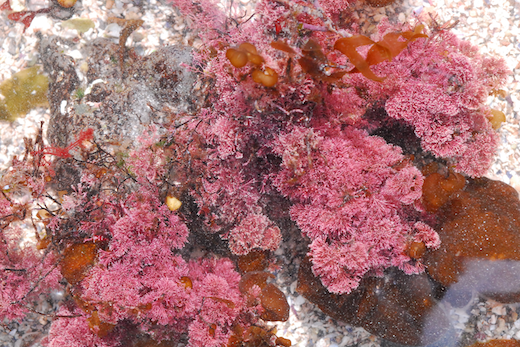 Also known as Corallina rubens and probably Jania corniculata.
Description: Slender, rose-pink, articulated, calcified fronds, in rounded bunches to 50 mm high. Repeatedly dichotomously branched, luxuriant specimens secondarily pinnate. Segments cylindrical, to 100 µm diam., those bearing branches somewhat compressed, to 200 µm diam. Fixed by small conical disc, but spreading vegetatively by developing attachment discs from branches in contact with solid substrata.
Habitat: Epiphytic, only found growing epiphytically on older plants of the brown algae Cladostephus spongiosus and at the base of old, long-established Cystoseiraspecies in the lower intertidal, southern and western shores, often abundant.
Similar species: Corallina elongata, which is pinnately branched in contrast with the dichotomous branching of Jania rubens.